Takis
White Cube Bermondsey

Exhibition Review
Written July 2021.

Takis Foundation. Photo © White Cube (Theo Christelis)
.

To step into the world of Takis (born Panagiotis Vassilakis, Athens, 1925) is to step into a realm in which the inanimate, ubiquitous and in some ways, infinite medium of metal is given a voice by way of elaborate mechanisms, experimental arrangements and bizarre compositions. It is a world in which metalcraft and metallurgy are given permission to transcend the confines of mere function, ergonomics and social practicality, into something grander and greater, able to impress in as many equal measures as unsettle, all in the name of art. Takis' world, is one in which metal, magnets and motion dictate an ongoing battle between anthropological optimism and biological pessimism; creative energy bound to an obsession with attempting to tell both honorific tales of man's distant past, simultaneously prophesying his doomed future, all the while harnessing the power of communication, within our understanding and beyond.


'You can hear metal think in the electromagnetic fields of Takis sculpture… you can hear weather maps arranging the American dawn of Terminal Blue… you can hear metal caught in the turn for position',


visual artist and writer William Burroughs wrote on the work of the Greek artist. Remarkable still, is the fact that this excerpt, despite being the result of randomisation and abstraction, holds profound, accurate gems of truth on the subject of the Takis' works and legacy. In the general sense of the world, Takis was a revolutionary: of that, there is little doubt. Yet in many ways, his work did and still does more than revolt exactly— it rebuilds, redefines and re-examines the known world with one that is on the fringes of a dystopian imagination. It links the worlds of engineering; of scientific intrigue, with that of art in ways that bend the mind and reshape mediums. With its transcendent minimalism and incessant reimagining, it could easily be mistaken for props on a science-fiction film set, part post-apocalyptic (or post-human even) instruments of bizarre, perverse and advanced purposes.



Takis Foundation. Photo © White Cube (Theo Christelis)
.

In short, the work of artist Takis is like no other visual artist of the last century, making his most recent exhibition at White Cube Bermondsey (arguably the most transcendental and immersive gallery in the capital), the perfect setting for a collection of works that loomed, that unsettled and that ultimately, performed, years after his passing. Starting with the more compact 9x9x9 room, his collection of famed Signal sculptures tower above visitors; eerie black totem poles, markers of mechanical, fantastical deities. Inspired by a range of sources; his time spent at a French train station as well as the very fragments from bombs dropped on Athens in the Second World War, the works reimagine the heights of technology and engineering, especially concerning death and preserving life. The gentle hum from the soft ceiling lights high above adds a delicate tension to the spindling sculptures, each of which finished with a runic signature, into their bases, making them seem like found objects from a parallel universe. Even up close, it's hard not to imagine these elaborate, vaguely familiar pieces as alien antennae, transmitting far flung frequencies from unknown worlds and galaxies; their basis on the everyday-ness of a train station, or something as destructive as an explosive, making the dramatic subversion all the more engrossing.

It is in the South Gallery where motion comes into play, and ultimately where visitors are invited deeper into the mind of the artist. If the scale and size of the gallery itself wasn't transcendental enough, pieces like Electromagnetic Sphere (1966), a large, ominous-looking black ball, swinging while suspended, will certainly provide the illusion of stepping into a cosmic throne room, home to unknown curiosities and technologies. Interestingly, more Signal pieces are present, yet it becomes apparent that none have numbers, nor does there appear to be any desire to tell them apart by name— an attempt at self-homogenising an artistic concept? Apathy toward the idea of artistic individuality? Simply a lack of inspiration? A single red light; a piercing eye amongst white shines on, making a stern gesture at a train which will never arrive, echoing his desire to examine symbols of life and death, how they are rooted within the consciousness of early man and how ultimately, there are just some things we cannot shift from our nature.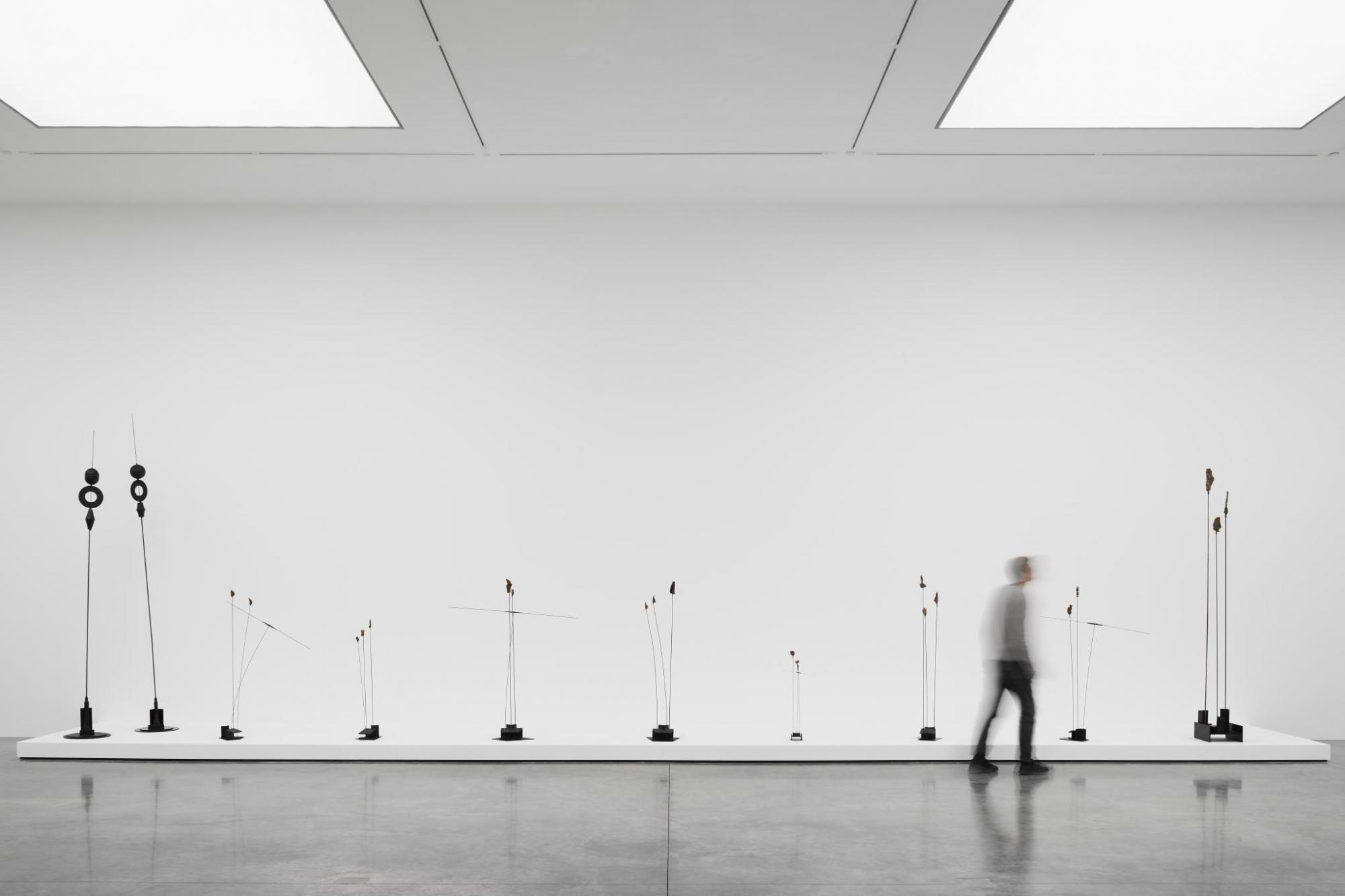 Takis Foundation. Photo © White Cube (Theo Christelis)
.

The pinnacle of the exhibition no doubt was the unified Musical performances, created toward the end of Takis' career— I say performances, because their synchronised complexity and technical ingenuity make them no less than that. Darkly extraterrestrial is perhaps the only way in which the four mounted sculptures, comprised of taut-wound wire, amplifiers and magnets, which within a routine (often hard to work out if random or cleverly synchronised) perform rounds of agitated clangs, can be described, and even then, there remains an undercurrent of paranoia in doing them a disservice. As Takis himself said, the pieces were the music of the cosmos— it isn't hard to feel as though you are eavesdropping on a conversation between unimaginable beings on either side of the universe, the likes of which exist beyond human perception. Even with his more familiar forms; human sculptures, largely anonymous and interpretive, they seem to be from a distant future in which humans are no longer present. FemaleFigure (1962) and Idole (1957) seem inspired, at least in part by primitivism in a way that is somewhat familiar, simple and perhaps even tribal, but at the same time, weighted with an observant diction. Peculiarly, Erotic (1980), a bronze bust of a male figure, isn't inherently erotic at all; Oedipus and Antigone (1954), given the drama of their story, appear as two naked, yet satiate figures side by side. Although pieces like these ground Takis, as well as make his work accessible, they can just as easily frustrate in their comfortability with their obscurity.

Yet, if nothing else, Takis was a product of his time; an era of the mid-20th century, shaped by the threat of atomic bombs and the resurgence of nuclear ones; where dread and despair on a globally financial, social or religious slant was one minuscule event away. Perhaps his obsession with signals; signals that preserve life, prevent death and take the very concept of communication into the realm of science fiction was shaped by his own paranoia and pessimism towards the world in which he lived. Perhaps his dedication to materials; copper and iron, which helped define epochs in human development, is a salutation to the same ingenuity— the fear that man might not survive the next decade, meaning that his own work may be all that remains in its memory. In any case, this artist, engineer and unrelenting explorer of the mind's work opened a portal into a reality in which physics is able to be seen as more performance than mere pragmatism— a notion almost as full of possibilities and of fun as the work of the artist itself.