Image courtesty of Gian Paul Lozza.

Powerful, vast and mesmerising, Gian Paul Lozza's Somnium (literally, a dream-like state) seems firmly at home within the inviting arena of Leigh-on-Sea's Francesca Maffeo Gallery; a modern, deceivingly spacious gallery in which attention to aesthetic and design is no less than immaculate. The result here is a curated visual journey shaped meticulously from memory; a collection of metascapes as Lozza describes them, in which scenes of intrigue and wonder are plentiful.

Creating a series of images strictly by moonlight (or a calculated lack of full ambient daylight) is not a task worthy of being down-played. There is both an admirable tenacity and artistic resilience in working within the hours that heighten innate human senses and anxieties, not forgetting the technical challenges faced when approaching and framing scenes in accordance with the night. Any contender would have to fully embrace the limitations and capabilities of a mechanical iris to even have half the chance of producing anything worth keeping. In the case of Somnium, images such as 'Sea': a pale turquoise seascape with waters merging into the greyed infinity of mist, or 'Container' in which a vivid blue container is captured against what appears to be snow-laden clouds in the background, are enough to invoke a sense of transcendental romanticism and awe at their very creation.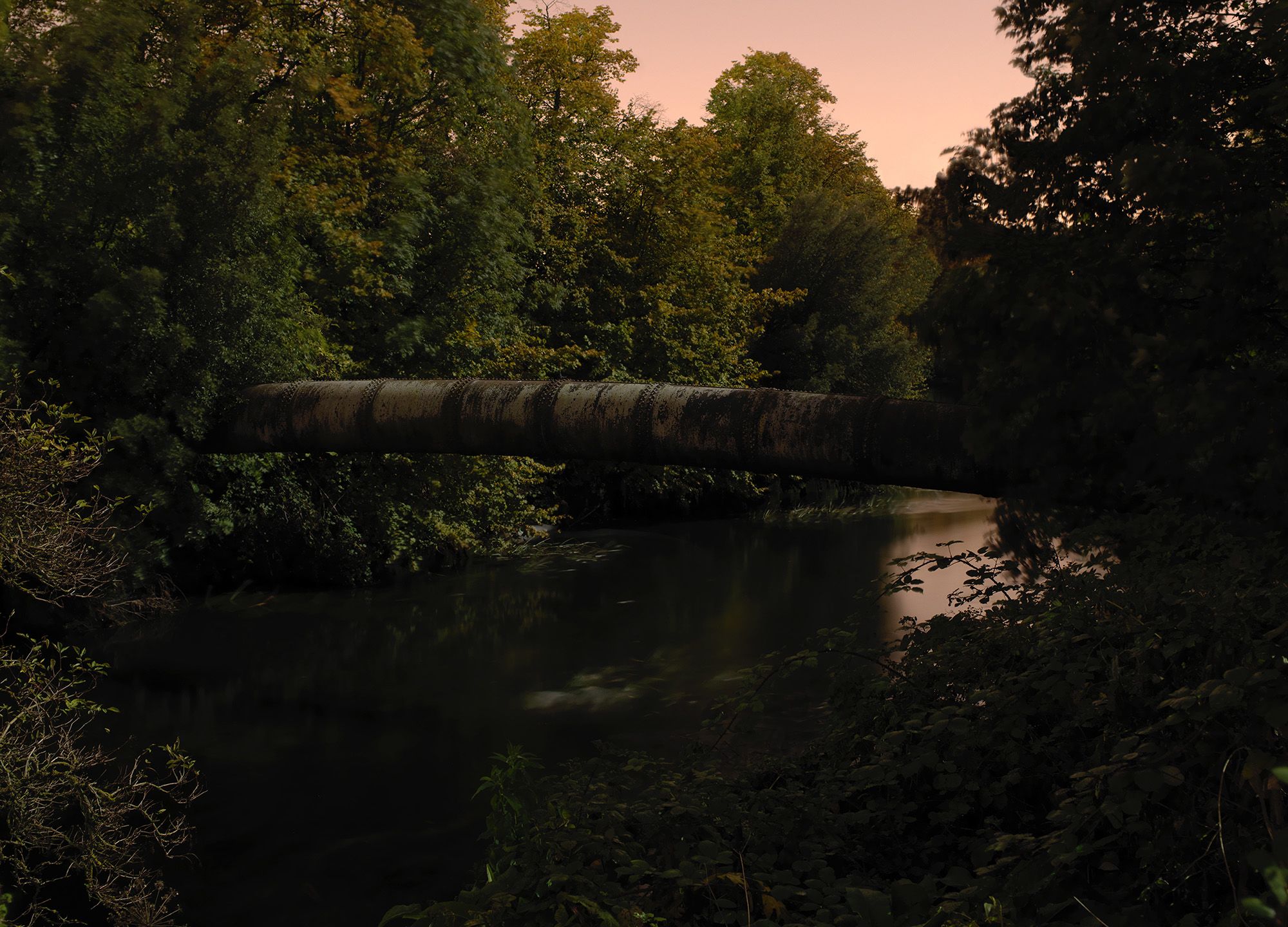 Image courtesty of Gian Paul Lozza.

Where Lozza's Somnium succeeds from the onset, is in its ability to take audiences to these scenes he has visited, presenting each image with the very intimacy and palpability of his own experiences. The snow in 'Snow Peak' for example, feels so close that it can be touched; the colourful objects within the shrine in 'Memorial', so vivid that they seem but a stone's-throw away. With many images from the series ('Tube', 'Container' and 'Memorial' standing out as strong examples) created using something close to a telephoto lens, we are spared any visual distractions within the scene, and given the purest reproduction of his memory of the place in question. Each inanimate, focal subject in their frames have their importances affirmed, one by one serving as visual bookmarks within the artist's own mental tome.

Larger, isolated images such as 'Stage' and 'Shrubs' demand full concentration; their beauty and scale unable to be digested at first glance. In the case of the latter, it's dark, repetitive visual infinity is full of such order that suggesting it was digitally manipulated would be a fair (yet incorrect) deduction. 'Pool' and 'Backyard', also have distinct appeal. Both seem frustratingly familiar, laced with nuances of nostalgic aspects of cinema and television, playing upon notions of night-induced anxiety and the tension surrounding the purpose built human spaces. With one representing suburbia and the other, the metropolitan, they both contain a respective dramatic edge. The desolation in 'Pool' invokes many questions and yet answers none, awash with so much dusky haze that making out all of its intricacies proves impossibly eerie. Experiencing it with glassless framing breaks a certain barrier of intimacy; the removal of any hindering light-reflection inviting eyes to wonder across the merging of microscopic shadowy pixels. 'Backyard' does a similar visual job successfully, yet remains the sore thumb of the series. With it being the sole image devoid of any natural element (flora, landscape or otherwise), it feels better suited as an eerie, yet striking stand-alone image.

Although an ongoing series and one that was created on a trial and error basis (as Lozza himself says), Somnium does appear to have a number of recurring themes. Several images ('Glacier', 'Stand', 'Satellite Dish I') convey a harmony between man's audacious constructions of the past and the land in which they sit, decaying and crumbling like neolithic relics. Infinitely vast landscapes make up most of the series too, covering the likes of layered snow-dunes, dense woodland or arid brush. The most prevalent theme throughout the series however, is that of desolation: the series is completely devoid of direct human presence. With that in mind, these dream-like scapes are very easy to be imagined as if post-apocalyptic scenes in which the elements have reclaimed the very lands in which they were made to share.

Fabled or not, the Shangri-La-like like transformation of the gallery space for its six week duration is one that allows viewers to travel to some of the most isolated, yet beautiful places on Earth, and share a glimpse into the mental journey of the man who will take them there.