© Franco Fontanta. Images courtesy of Atlas Gallery.

The charming, vibrant and visually satisfying photography of Franco Fontana stretches over five decades worth of images that make full use of colour, delicate abstraction and form, in order to create large-scale immersive scenes, meditative and transportive in their immediacy. Yet, away from this are his lesser known Polaroid photographs— an expansive body of work, exploring the intricacies and intimacies of his personal life and creativity, away from grand landscapes— moreso the intersection of lives, than of lines, and the beauty of the everyday, steeped more in improvisation than linear, sun-soaked scenes of escape. His Polaroid exhibition at Baker Street's Atlas Gallery, surrounded by his neighbouring display of images from Language of Colour, and comprised of over one hundred of the palm-sized prints, intrigues easily for a number of reasons— namely for giving a direct insight into the mind, life and desires of an artist whose career has largely been dominated by abstraction; by the inanimate, his characteristic, meditative calmness rivalling the most recognisable of Rothko paintings. Within this self-imposed creative free reign, Fontana was simply able to create images, seemingly for art's sake; a quick peruse of the exhibited artefacts revealing distinct themes of things that not only caught his eye, but that he wished to be done justice by the iconic size and aesthetic of the much revered Polaroid SX-70 camera. Shadowy street scenes are seen, sometimes blurry, underexposed or heavy with silhouettes from a high sun. Objects found in the street are marvelled at with an almost outsider perspective, rich with innocence and naivety that still does not manage to take away their importance.



© Franco Fontanta. Images courtesy of Atlas Gallery.

The biggest, boldest and most curious standout within the works however are the nudes, of which there are many; seductive, erotic, iconic, playful— sun-kissed, staged and fleeting. For an artist whose use of human subjects is not only rare, but categorically tame, this particular and prevalent foray seems at first like the revealing of a dirty, yet humorous secret. Yet the images themselves are not crude, brash or full of taut sexual tension; rather, they evoke a sense of hedonism and freedom, almost as if the subjects are lifelong friends or lovers, unbridled by societal norms, posing for Fontana as he vacations by swimming pools, on beaches and within decadent, rustic buildings like an international playboy. Their beauty cannot be ignored; more than once these unclothed bodies (sometimes multiple within a photo) can be seen posing, strutting, reclining, swimming and revealing in a way that mesmerizes and compels to as much extent as any other example of high-art. Too, to be noted is his fixation with the buttocks and the vulvas of these women; the vast majority of the images using these areas, the latter with their timely pubic hair, as the crux of the images themselves, often veiled with the textured skin of translucent, water-soaked miscellaneous fabrics that cling, clothe and drape effortlessly. Without context, these polaroids in particular could be very easily mistaken for film stills from a sol-soaked, mid-century romantic independent film. Whether or not artists like the great Botticelli were sources of inspiration for the nudes remains unclear, but the form and desire for gracious, eloquent and elaborate poses and compositions is enough to crown them as modern interpretations of the renaissance ideal, rivalling triumphantly the content of even the most carefully curated, so-called 'dreamy' Pinterest boards— his female subjects, largely anonymously, posing like obscure nymphs and desired deities.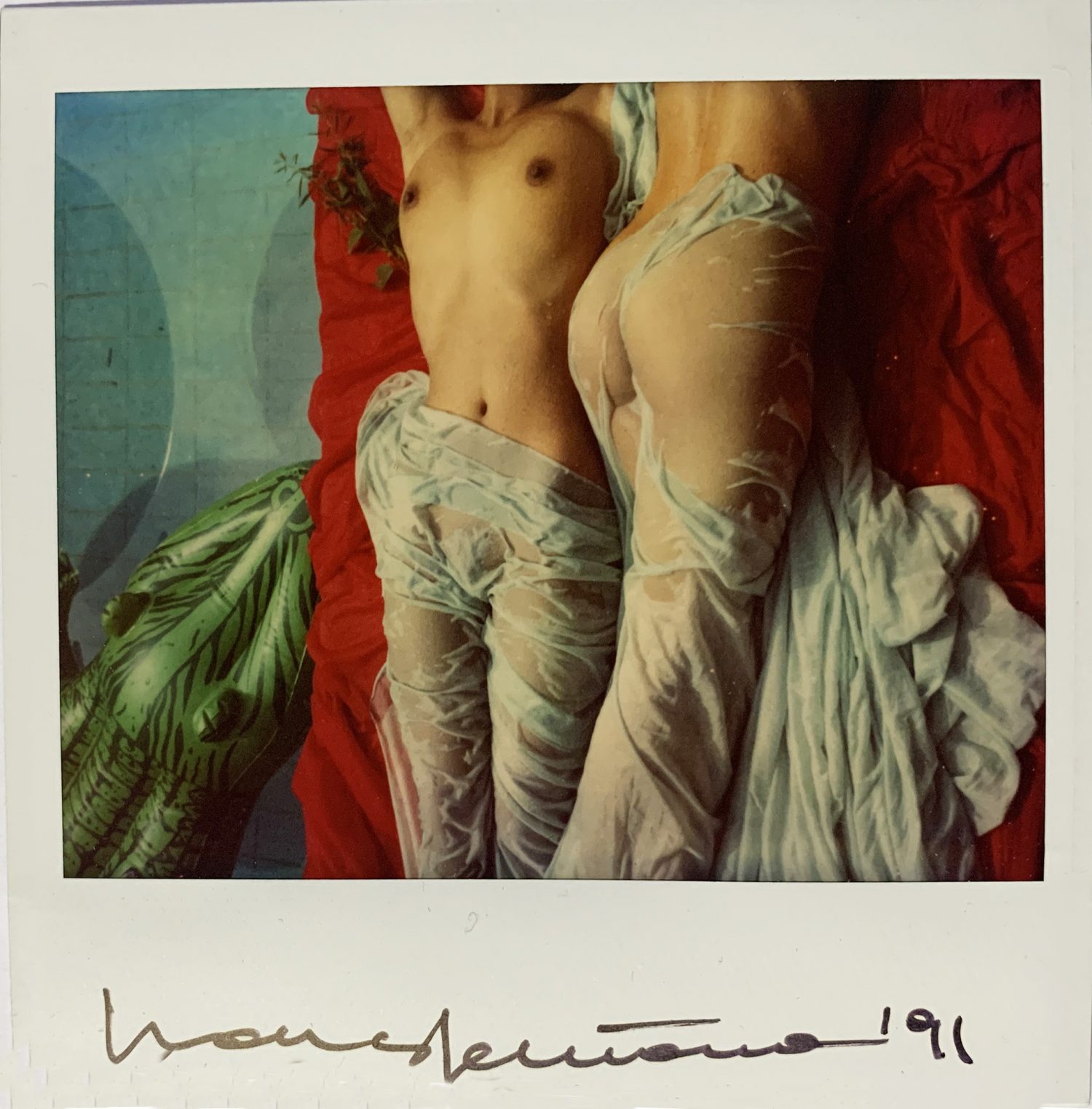 © Franco Fontanta. Images courtesy of Atlas Gallery.


As with all of his Polaroids, they largely remain officially Untitled— a slightly bittersweet act of anonymity for images often feeling deserving of grandiose titles to both affirm and match their excellence. Even so, despite being without, even the most mundane of scenes; a chair in the street, concrete blocks neighbouring the seashore or pigeons sitting on a wire, not only present an air of the cinematic but boast a vision and a decisiveness full of wonder, confidence and passion. Essentially, Fontana's Polaroids are the art behind the art— an outlet, pastime and pursuit; a passion for simplicity, improvisation and mapping his own creative interests away from the so-called main articles. Simultaneously, they exploit the rich, characteristic visual Polaroid chemistry and colours of the time, while also making full use of the physical, the temporal and the intimate; gentle full-stops at the end of every fleeting and documented experience displayed. They lie between the two extremes of a beautiful everything and nothing; poignant even more so now from an age full of revival, longing and technological nostalgia, in which such works can be seen within a renewed light of artistic admiration, and boundless wonder, as these examples so, indeed, deserve.